We supply an extensive range of printers and media, from all the industry leading manufacturers, enabling us to deliver a complete solution for any environment or application that easily integrate into your existing enterprise and keep pace with your evolving business challenges. See your entire supply chain in real time, increase efficiencies and leverage Internet of Things (IoT) technologies to gain a competitive advantage.
Whether you're seeking fixed, desktop, mobile, or RFID printers, or media including labels, receipts, tags, ribbons, and RFID media, we have the tools and configurations your business depends on. You'll also find a variety of software packages to tie it all together with first-class printer management capabilities.
Industrial Printers
Smart. Strong. Secure. Industrial label, ticket and tag printers cover any type of application, from commercial light volume needs to rugged, round-the-clock printing performance. Recognised for durability and reliability, leading industrial printers offer error-proof labelling, programmability, advanced networking connectivity and security, as well as RFID and liner-less technology. For industry-leading performance, our portfolio of industrial printers is the smart choice.
Desktop Printers
Keeping your operations running smoothly and efficiently is your top priority. You rely on printers and tools that are dependable, durable, easy to use and don't require much space. Our desktop printers are compact, simple to operate, reliable and cost effective. Choose from a range of quiet, compact, intuitive and reliable printers, with a range of configurations, designed to excel in your business environment.
Mobile Printers
Increase your employees' productivity, precision and accuracy by equipping them with wireless mobile printers that are tailored to how they work and the job they do, regardless of your industry or whether you're printing barcodes, labels, receipts or tickets. Printers range from those ideal for occasional use, to rugged machines that feature a range of latest connectivity options and robust functionality that keeps you operating in even difficult situations. Designed to withstand punishing field conditions, our mobile printers allow a full day of printing without recharging.
Consumables
We supply a large selection of pre-tested, high-quality printing supplies ranging from barcode labels, card printer supplies, receipts, tags and ribbons that support a broad range of barcode printing applications, even in some of the toughest environments.
Our wide variety of media can support thermal printing technologies and the broadest array of needs. Paper and synthetic labels are available for use with both direct thermal and thermal transfer printers. Zebra has the largest selection of pre-tested, high-quality printing supplies, from barcode labels to card printer supplies to RFID tags and more. Zebra supplies give you proven performance backed up by:
An R&D team that conducts extensive tests on different materials

Tight and strict manufacturing tolerances

Consistency in materials for crisp, readable and scannable output
Download Zebra Supplies Brochure or browse their full portfolio here
To explore our complete portfolio of consumables, including technical specifications and pricing, please contact us
Whether yours is a small business or an enterprise, we have the right device for you. Browse our key featured devices below or contact us directly for our complete portfolio
Our Featured Products
Honeywell PM43, PM43c and PM23c Industrial Printers
Programmable PM series smart printers offer you reliable performance for uptime assurance, quick deployment and integration, and the fastest throughput in their class – no PC required.
Honeywell PC42d Desktop Printer
Featuring a solid double-layer housing, easy paper-loading design and media auto-centering function, the compact and elegant PC42d printer is easy to operate. Powerful and reliable, the PC42d printer is well suited for a variety of low-to-mid intensity thermal printing applications.
Zebra ZD620 Series Desktop Printers
Available in both direct thermal and thermal transfer models, the ZD620 advances the legacy of the industry-leading GX Series printers. These premium models bring advanced industrial printing quality to a compact desktop printer — offering the fastest print speeds, print quality and manageability in its class.
Zebra ZQ600 Series Mobile Printers
Improve inventory management and customer service in your shop with the ZQ600 Series mobile printer. Taking the popular QLn Series and making it even better, the ZQ600 Series delivers advanced technology and an innovative design that drives productivity, ease-of-use and manageability to a new level.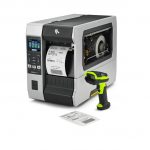 Zebra ZT600 Series Industrial Printers
The ZT600 Series advances the legacy of the Xi Series printers to combine rugged durability and exceptional performance on a user-friendly, future-ready platform. These next-generation workhorses are designed to help you navigate the rapidly evolving business landscape.