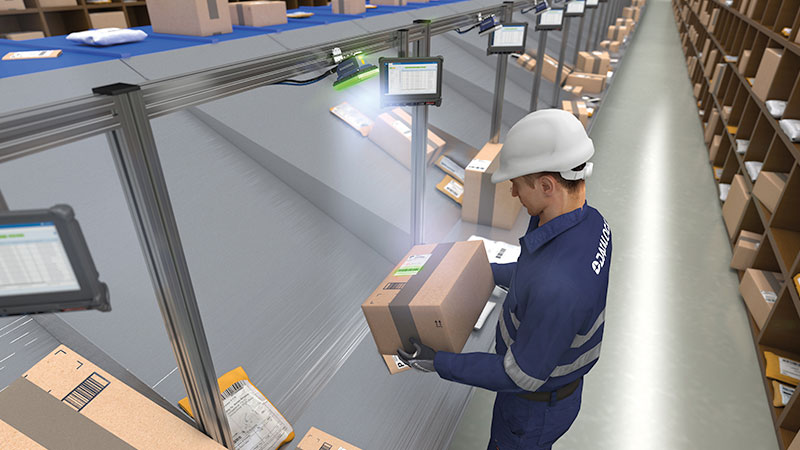 Eliminate Delays During Peak Season With Hands-Free Scanning Solutions
The movement of parcels and products through supply chains is not only increasing in number but increasing in variability of size, weight, and shape. All increases, especially during the peak season, impact the labour effort required to keep things moving through the supply chain.
Reading barcodes at each step is a conceptually simple process that is repeated thousands of times per day by individuals and millions of times per month by enterprises. This simple process yields traceability clarity and confidence but can come at a significant cost in manpower and time when aggregated.
The act of picking up a scanning device, aiming at a barcode, reading the code, and returning the device adds up in time and affect on workers. Items that are either too big to handle in one hand or oddly shaped requiring two handed handling must wait until the barcode data collection process is completed before moving to the next step. This delay is repeated for each of these items at each step as it travels the supply chain.
Hands-free scanning eliminates these delays by delivering a means to seamlessly handle the item and record traceability data. Benefits from hands-free scanning are more than just time saved by eliminating handing of a handheld device; hands-free operations are preferred by workers due to their improved ergonomics. Keeping a movement fluid without interruption eliminates potential injury situations.
Hands-Free Scanning Solutions From Datalogic
Wearable Scanners:
For workers moving throughout the enterprise handling inventory and materials in tasks such as picking, kitting, and put-away, the HandScanner from Datalogic is the ideal device.
HandScanner is the smallest and lightest wearable scanner on the market. Its Bluetooth interface makes it easy to connect to mobile computers, smartphone, vehicle mounted computers and other smart devices.
With the HandScanner workers have both hands always available for doing whatever task is being performed. The scanner is mounted on a glove that worn throughout the shift. Each time a scan is required a simple movement of the thumb activates the scanner. It is a small device making it light and easy to wear. Its long-lasting battery delivers productivity all shift long.
When it is time to recharge, the unit is easily removed from the glove and placed in a charging dock. In just a short time the HandScanner is ready to go to work. If you can't wait for the charging to complete, a new device can be easily snapped on to the glove and work can begin again.
Overhead Scanning:
In operations where scanning is done at a specific location within the enterprise a second hands-free method can be implemented using an overhead scanner. Operations such as receiving, palletisation, and fulfilment are ideal for hands-free overhead scanning.
The Matrix 320 Hands-Free kit was designed specifically for these types of installations. The Matrix is a unique device with the power and optical performance to detect barcodes on parcels as they are being moved through the field of view.
One ideal application for overhead scanning is ecommerce fulfilment. Every e-commerce order is picked and packaged for shipment at a fulfilment station. There, the contents must be verified against the order to ensure the correct items are sent to the correct customer. Depending on the size of the enterprise, thousands of items are scanned every day or every hour. Using an overhead hands-free scanner creates significant time savings by eliminating the deliberate scanning operation.
There is no stopping to pick up a scanner, no aiming, no trigger to press and nothing to put away. Instead, the task becomes one of moving items from one location to the next.

See Beyond Data with Intelligent Visibility into Distribution Centre Operations
Operational Intelligence is a centralised, cloud-based platform to manage the complete lifecycle, operational visibility and performance analysis of assets, people and tasks.
With embedded hardware sensors designed into Honeywell products, the solution continuously extracts performance data that is periodically sent to the cloud for analysis.
Read more