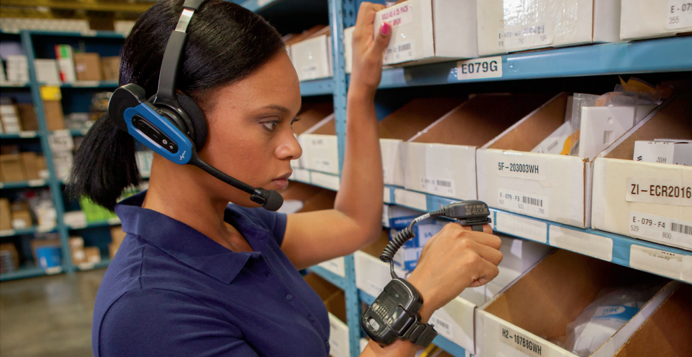 Honeywell Voice Automated Solutions Case Study
Manual data capture and entry – whether it be through scanning or typing – takes time.
What seems like only seconds in entering data compounds quickly across an enterprise and could result in unforeseen additional costs. To combat costs associated with manual data entry, distribution and warehousing businesses are turning to voice-guided technology for a variety of tasks and for good reason. Voice technology helps businesses save those seconds and increase productivity on the floor and top-line revenues through recognisable speech patterns.
Voice technology allows businesses to achieve heightened levels of productivity, accuracy and safety, enabling workers to move through their tasks – from put-away to picking and everything in between – more efficiently.
User Case Example:-
Like many large distribution and warehouse businesses, the customer heavily relied upon warehouse workers using forklifts to put away and replenish thousands of transactions per shift. Using multiple devices – including a handheld scanner, keyboard and tablet – workers would accomplish their work, taking their eyes and hands away from safely operating the forklifts.
The customer decided to implement a pilot program to compare the benefits of speech recognition technology versus the industry standard manual, hands-on method.
The results showed that voice-guided technology enabled the customer to complete their task in 9.4 seconds, a resounding savings of 6.7 seconds over manual scanning and data capture.
Download Honeywell Voice Case Study
Voice Picking generates savings in multiple ways:
Accurate order fulfilment, the first time.
Increased picker efficiency (e.g., more lines picked per hour; less overtime).
Faster training and onboarding of new hires and temporary associates.
Reduced quality assurance (QA) staffing, as fewer audits are required.
Decreased staff turnover and improved worker engagement.
Increased safety, resulting in lower insurance costs.
Efficient regulatory compliance.
Inventory optimisation with reduced holding costs.
Fewer administrative, fixed asset and consumable overheads.
Real-time visibility and integration to business system decision-making.
Is Voice For You? Take Our Quiz

See Beyond Data with Intelligent Visibility into Distribution Centre Operations
Operational Intelligence is a centralised, cloud-based platform to manage the complete lifecycle, operational visibility and performance analysis of assets, people and tasks.
With embedded hardware sensors designed into Honeywell products, the solution continuously extracts performance data that is periodically sent to the cloud for analysis.
Read more