Printer Hardware Services
Keeping your print infrastructure at full strength with our field-based and in-house suite of repair services.
Your printers require just as much as care and support as every other piece of technology in your business.
That's why Renovotec offers a wide range of Printer Hardware Services to ensure your print hardware is kept fully operational.
Printer Hardware Services from Renovotec
From repairs to exchanges, our technicians are ready to provide the expertise and the devices you need to maintain the expectations of your customers. Our Printer Hardware Services come with a variety of SLAs, designed to meet your exact support needs. Our Printer Hardware Services form a part of our extensive Service offering for all our customers.
Contact us today so let's discuss how we support you with our Printer Hardware Services.
Our Printer Hardware Services – Our SLAs
8-Hour Response
You will receive a fix or replacement printer within an eight-hour window.
4-Hour Response
You will receive a fix or replacement printer within a four-hour window.
NBD Fix
You will receive a fix or replacement printer by the Next Business Day (NBD).
8+8 Fix
Will we respond within eight hours then aim to fix the device within another eight hours.
4+4 Fix
We will respond within four hours then aim to fix the device within another four hours.
Printer Hardware Services from Renovotec.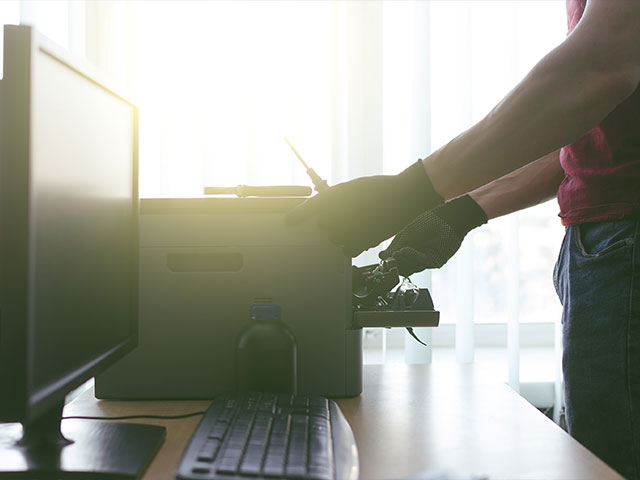 Field Service
Our Printer Hardware Services are available as a field-based service. Our team of fully certified technicians are ready to visit your premises, assess the fault with the hardware, undertake a fix or coordinate a suitable replacement device. This servicing and maintenance offering ensures your hardware is assessed, fixed or exchanged to ensure a minimum of downtime.
In-House Repairs
Renovotec's fully certified team of technicians can assess and fix any type of printer, including models that are considered 'legacy' or 'end of life'. If Field Service is not possible, our Repair Centre offers a comprehensive servicing of your devices, including the option for an exchange within your agreed SLA.
LOOKING FOR PRINTER HARDWARE SERVICES?
Contact our experts today and let's discuss how we can support your print infrastructure with a variety of repair and exchange services.
Contact Renovotec
Hear what our satisfied customers are saying about Renovotec.
We have a proven track record supporting organisations in multiple industries with tailor-made end-to-end AIDC technology solutions.

Renovotec have supported us as needed, and showed great flexibility and understanding during the project delivery phase of our recent move to SDWAN alongside Wifi upgrades.
They are also an integral part of our shopfit program, continuing to provide excellent service and pricing.
Natalie Foley, Retail Portfolio Lead, River Island
We've deployed Zebra's XT15 rugged mobile and Zebra VH10 vehicle-mounted computers that are designed to cope with our industrial environment and connect to both our narrowband and Wi-Fi networks.
Add to this the assurance of service and support from Renovotec and we have the trusted platform our teams need.
MIS manager, Port of Tilbury
"We needed reliable, robust hardware at keen prices, which Renovotec was able to provide" says Accolade Wines' Senior Inventory Manager.
"We had a good look at other companies but this was the one we thought was best.
Accolade Wines
"Our analysis shows a significant increase in both the items and tonnage picked per hour" says Henry Colbeck's Financial Director.
"A snapshot voice performance sample revealed that the tonnage per hour was 29% higher.
Financial Director, Henry Colbeck
The VM3 rugged devices enable our drivers to be productive from the minute they sit in the Straddle Carrier cab.
The touch screen provides ease of use for the driver and the VM3 connectivity options allows our GPS and PLC Systems to be fully integrated.
Systems Manager, DP World Southampton