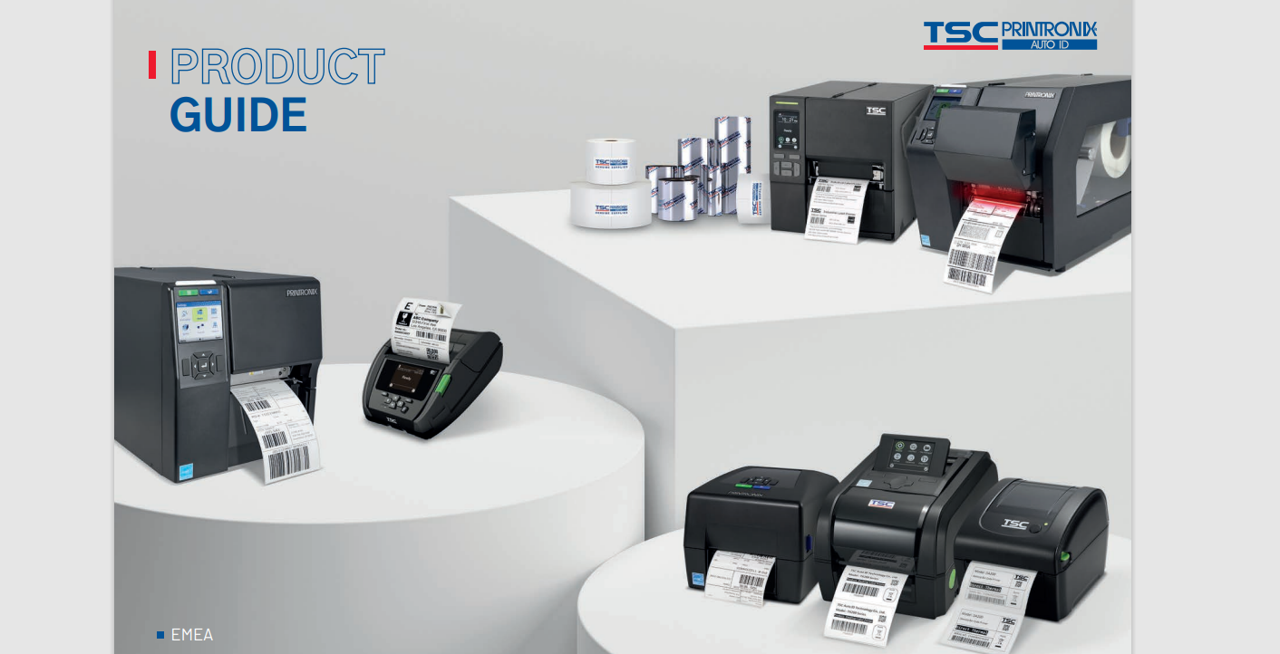 Explore TSC Printronix Auto ID's Latest Innovative Tracking and Identification Solutions
High Performance, Cost-Effective Thermal Label Printer Options
TSC Printronix Auto ID performance barcode label printers are known for high-quality and affordability. They offer a wide range of printers for diverse applications from rugged mobile, budget-friendly desktop, to enterprise level industrial printers.
These printers can easily fit into almost any environment with the power of their standard firmware capable of providing extensive customisations and most major printer languages right out of the box.
TSC Printronix Auto ID printers are easy to install, service, and manage with the support of TSC Console, PrintNet Enterprise and SOTI Connect remote printer management software with enhanced features and tools. Customers have the power to control their printer fleet from anywhere from a single seat.
Explore TSC Printronix Auto ID Printer Portfolio
Contact us for further information
Key Features:
* Highly Customisable
A wide selection of hardware and compatible supplies allows for high levels of customisations on any TSC Printronix Auto ID device in their Late Point Configuration centre.
* Printer Language Support
Emulations of most major printer languages such as IGL, SGL, DGL, IEGL, TGL, MGL, EGL enables easy plug-and-play in most applications with TSPL-EZD/TSPL-EZC or ESC-POS firmware.
* Wide Range of Products
An extensive variety of printer selection gives customers options across all levels of printers from mobile to industrial applications.
* Remote Printer Management
SOTI Connect offers cloud-based remote printer management is compatible with TSC Printronix Auto ID printers. TSC Console is a powerful tool to quickly manage TSC printers, PrintNet Enterprise for Printronix Auto ID printer range to remotely including configuration settings, program deployment, and troubleshooting.
* Print Operation Management
TSC Standalone Creator is an exclusive software that makes updating interactive touch panel menus and label designs easy by using an icon-based drag-and-drop interface for TSC printers. No programming experience is required. TSCPRTGo is a mobile label design app that works with TSC Standalone Creator to offer users seamless printing operation on Android and iOS mobile devices for productive mobile printing.
* Superior Price Preperformance And Quality
TSC Printronix Auto ID rugged label printers ensure precise end-to-end identification, resulting in high quality and significant cost savings.
Core Vertical Solutions
Transportation & Logistics
• Compliance labelling • ROI of readable barcodes • RFID in the supply chain • Boost efficiency with cross-docking.
Manufacturing
• Meet compliance regulations and avoid chargeback fees for bad barcodes • Better performing RFID printers • High-value asset tracking with adaptive RFID standard and on-metal tags.
Retail
• Defend against chargeback fees • Track and trace with RFID • Direct store delivery solutions • Product tagging and price changes.
Food & Beverage
• Product labelling with critical information • Deliver directly to customers • Barcode inspection technology • Mobile inspection labels.
Healthcare
• Ensure the safety and security of patients with accurate identification • Cerner certified and ready for patient admission.
Entertainment & Hospitality
• Event admission and security made easier than ever before • Simple operation interface streamlines ticketing and order taking.
Horticulture
• Print high-quality plant stakes • Track seed production • Capture every detail • Print vinyl labels.
Automotive
• Track and trace • Barcode inspection technology • Mobile inspection labels • Tyre labelling • RFID standard and on-metal tags.
Contact us for further information and pricing

See Beyond Data with Intelligent Visibility into Distribution Centre Operations
Operational Intelligence is a centralised, cloud-based platform to manage the complete lifecycle, operational visibility and performance analysis of assets, people and tasks.
With embedded hardware sensors designed into Honeywell products, the solution continuously extracts performance data that is periodically sent to the cloud for analysis.
Read more