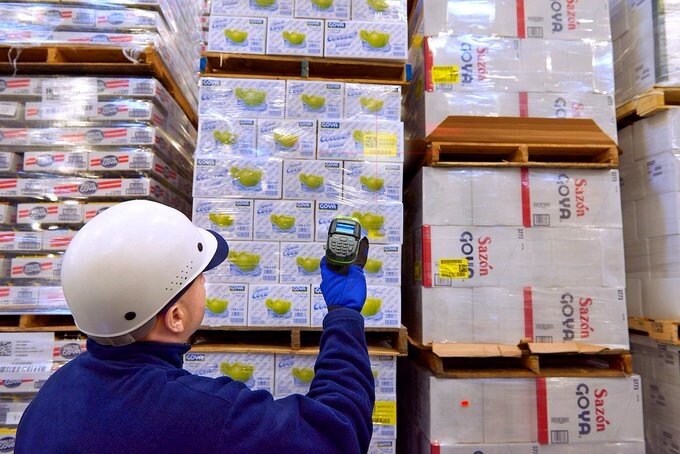 Zebra DS3600-KD Ultra-Rugged Scanner
Ultra-Rugged Scanner with Keyboard and Colour Display Boosts Accuracy and Performance
The DS3600-KD is the latest addition to Zebra's line of ultra-rugged barcode scanners that defined the market—establishing new standards for rugged design, scanning performance and manageability.
Warehouses, retailers and manufacturers face unrelenting pressure to deliver more and to do it faster and more accurately. Meet these challenges with the DS3600-KD ultra-rugged scanner with keypad and colour display. Built for the toughest environments, the DS3600-KD is virtually indestructible with an enhanced 10 ft./3 m drop spec to concrete, 7,500 tumbles and a dual IP65/IP68 sealing. The device reads barcodes in any condition, whether they are in hand or as far as 7 ft./2.1 m away.
Workers can key in data, such as adding quantity and location, with the ergonomic keypad and colour display. Pre-built applications offer the same "point and shoot" simplicity of a scanner and enable workers to complete picking, put away and inventory tasks with amazing efficiency and accuracy. Also, DataCapture DNA, Zebra's exclusive software ecosystem, takes scanner performance far beyond the basics—simplifying every stage of the scanning experience over the life of the device.
Innovative Features of the DS3600-KD Ultra-Rugged Scanner
Superior Performance
The DS3600-KD offers the same versatile performance as the DS3600-HP, capturing barcodes out to 7 ft./2.1 m away. The device's best-in-class megapixel sensor along with Zebra's exclusive PRZM Intelligent Imaging technology deliver superior performance on challenging barcodes, including damaged, dirty and under shrink-wrap.
Keypad and Colour Display Streamlines Tasks
Five pre-built applications are ready to use right out of the box—no other device in this class offers the simplicity of pre-built applications. The scanner's bright colour display offers a modern, intuitive user experience; adjustable illumination makes it easy to see in any lighting condition. The ergonomic 16-key keypad is thoughtfully designed for one-handed operation, while the ability for future customization can meet specific application needs.
Ultra-Rugged Design
Zebra's DS3600 Series sets the bar for ultra-rugged design, including an enhanced 10 ft./3 m drop spec to concrete and dual IP65/IP68 sealing, the DS3600-KD is dust proof, can handle the force of jetting water and be fully submerged in water. The DS3600 Series is the only scanner in its class to offer an ultra-rugged cradle with IP65 sealing. Industrial charging contacts withstand 250K insertions, while our exclusive Connect+ Contact Technology assures reliable, corrosion-free charging over the life of the scanner.
Do More with Superior Versatility
The DS3600-KD captures all types of barcodes, optical character recognition (OCR), images and signatures. Intelligent Document Capture de-skews and optimises images, while Label Parse+ instantly captures and parses GS1 label barcode data to easily capture more data. Multi-Code Data Formatting captures and processes up to 20 barcodes simultaneously, with complete control over processing order.
Superior Cordless Technology
The DS3600-KD offers industry-best cordless features including: most scans per charge (60,000), Wi-Fi Friendly Mode to prevent Bluetooth interference, a smart PowerPrecision+ battery with health metrics and Virtual Tether to prevent misplaced scanners.
Offers AutoConfig and Remote Diagnostics Capabilities
Since scanner settings are stored in the cradle base, users can simply pair the DS3600-KD to switch workflows; for example, take a scanner from the forklift and use it for shipping without manually changing settings. Also, the logging agent's Remote Diagnostics capabilities automate the recording of scanner asset information, health and statistics, configuration settings and barcode data.

See Beyond Data with Intelligent Visibility into Distribution Centre Operations
Operational Intelligence is a centralised, cloud-based platform to manage the complete lifecycle, operational visibility and performance analysis of assets, people and tasks.
With embedded hardware sensors designed into Honeywell products, the solution continuously extracts performance data that is periodically sent to the cloud for analysis.
Read more