The Right Priced Rugged Tablets From Zebra That Have It All – Right Out of the Box
Why settle for 'good enough' when you can give your workers all the features they need to do business right — at just a fraction of the cost of a typical rugged tablet?
You're considering purchasing consumer-grade tablets for your business because the cost is right — and while the feature set may not be ideal, it seems good enough.
But there are hidden costs — such as a case to increase durability or a scanner for tasks that require heavy barcode scanning. Without the right durability, you'll need to replace tablets more frequently — and short product lifecycles create a mixed model deployment that is more complex and time-consuming to support.
Watch Video
Download comparison chart
The ET40 and ET45 from Zebra, the right-priced enterprise tablets that are built for business.
Start with the best screen size for the job — the easy-to-carry 8-inch or the 10-inch for easy viewing of information rich apps —  and every model provides everything you need, right out of the box. Thin and light consumer styling that is business tough. Integrated enterprise-class scanning. The fastest wireless connections. A multi-year lifecycle. Powerful new communication options. New solutions that add new capabilities, allowing you to turn these tablets into a POS, a workstation, a two-way radio and a PBX handset. Improve every aspect of tablet lifecycles at no cost with complementary Zebra-only Mobility DNA Professional tools. Take worker productivity to the next level with the optional Mobility DNA Enterprise toolkit by making data capture easier than ever. And more.
The ET40/ET45 Enterprise Tablets — everything you need to do business right, at the right price.
Contact us for further information
Innovative Features of ET40/ET45 Enterprise Tablets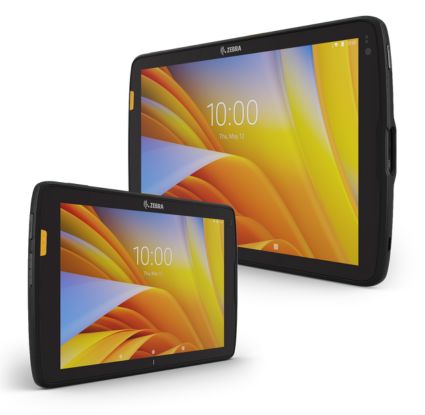 Thin and light consumer-like tablets with uncompromised ruggedness
The ET40/ET45 enterprise tablets are built tough to withstand the rigors of rugged enterprise environments while still having a sleek consumer-like design. Drop them on tile or concrete floors. Use them inside and outside, in the heat or subzero temperatures. Hose them off. They still work unlike consumer-grade devices that fail and break more easily.
Fastest wireless connectivity with Wi-Fi 6 and 5G
The Wi-Fi only ET40 is ideal for indoors in retail and hospitality, while the ET45 is ideal for delivery drivers and more out in the field. Both models enabling workers to stay connected to the information, data and people they need wherever they are.
World-class integrated scanning
Truly integrated scanner for fast, accurate on-the-spot capture virtually any barcode, in practically any condition. There is no need for customers to download a third-party application to scan a barcode with a camera or attach a scanning sled accessory adding unnecessary bulk or weight to the tablet.
Business-class lifecycle with guaranteed availability and support
The ET40/ET45 enterprise tablets are built to last for years—customers can count on support every day their devices are in service—for six years from initial sale date. Zebra's optional OneCare services provide all the options customer need to choose the right level of service for their business.
Purpose-built comprehensive suite of accessories
Customers get everything they need to make the ET40/ET45 tablets easier to carry, more rugged and more versatile through solutions that add new capabilities. The multi-slot and single slot charging cradles simplify backroom management. Protective and carrying accessories enhance durability and portability. Customers can create a workstation on demand with the Workstation cradle. And create a kiosk and more with the Presentation stand.
Complimentary Mobility DNA Professional suite of software tools
With the ET40/ET45 tablets, businesses can maximise worker productivity and efficiency while minimising IT costs and complexity. These enterprise tablets simplify device lifecycle management and accelerate greater business outcomes, lowering total cost of ownership (TCO). Customers can unlock more tools to greatly improve the user experience and workforce efficiency by upgrading to the optional Mobility DNA Enterprise toolkit.

See Beyond Data with Intelligent Visibility into Distribution Centre Operations
Operational Intelligence is a centralised, cloud-based platform to manage the complete lifecycle, operational visibility and performance analysis of assets, people and tasks.
With embedded hardware sensors designed into Honeywell products, the solution continuously extracts performance data that is periodically sent to the cloud for analysis.
Read more