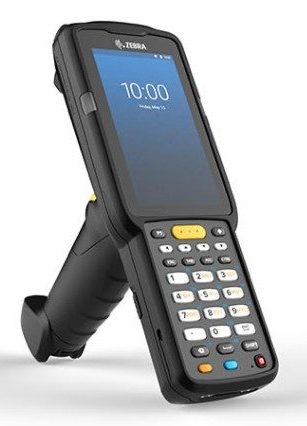 Take productivity to a new level in the warehouse and on the manufacturing floor
Future Proof With Wi-Fi 6 & The Next Generation In Device Tracking Technology
The MC3300ax mobile computer from Zebra builds on the highly successful and versatile MC3300x, offering new features that take productivity and efficiency to a new level in the warehouse, back of the store and manufacturing floor.
Next-generation Wi-Fi 6 connectivity delivers unmatched wireless performance by offering lower latency in high density environments and the latest WPA3 security and encryption along with future proofing. The optional BLE-enabled battery and Zebra's Device Tracker provide additional visibility over assets. Plus, the complimentary Enterprise Browser offers a feature rich, secure web browser which makes it easy to create intuitive apps that drive productivity and efficiency.
Available in brick and gun/pistol grip form factors, the MC3300ax provides the same proven fit-for-purpose ergonomics and enhanced rugged specs of the MC3300x mobile computer. A choice of scan engines meets virtually any data capture need, including extended range scanning to reach barcodes on the highest warehouse shelves as far as 70 ft./21.4 m away. A class-leading battery can power the MC3300ax through three shifts on a single charge and the MC3300ax is built on Zebra's latest, most powerful and secure Android™ architecture.
MC3300ax Accessories
The MC3X family offers one of the most extensive accessory ecosystems in its class. Customers can customise their solution to meet their application and backroom needs, while you increase revenue and margins.
The MC3300ax is backward compatible with most MC3300/MC3200 accessories, such as soft holsters and select batteries; customers can use their existing MC3200 device charging solutions by adding an adapter cup.
Key accessories include:
Zebra ShareCradle
4-slot and 20-slot battery chargers
BLE-enabled 7000 mAh battery for device tracking
Zebra ring scanners, mobile printers and headsets
Variety of holsters and carrying options and more
Innovative Features of the MC3300ax Mobile Computer
Delivers maximum Wi-Fi power
The MC3300ax is the first device in its class to offer next generation Wi-Fi performance with Wi-Fi 6. Increased bandwidth and efficiency enable a major increase in devices and traffic—without impacting application performance.
Built for all-day business
Users get reliable operation and peace of mind with an increased 6 ft./1.8 m drop specification across the operating temperature, triple the tumble specification (3,000 3.3 ft./1 m), and now IP64 dustproof sealing. Corning® Gorilla® Glass on the touch panel and scan window protects your customer's investment from regular wear and tear.
Bluetooth 5.1 provides twice the speed, four times the range, less power
Speeds up to 2 Mbps improve the performance of Bluetooth peripherals, such as ring scanners, printers and headsets. The result? Faster application response times, faster printing and better voice quality. Battery runtime is also extended since Bluetooth Low Energy reduces power consumption.
Triple shift power boosts productivity
The MC3300ax features a large 7000mAh battery that provides 35 percent more capacity for a three-shift runtime on a single charge.
Easily find misplaced devices
An integrated Bluetooth beacon and support for the latest version of Device Tracker allows users to quickly and easily locate misplaced or missing devices—even if the device is turned off or the battery is depleted.
Choice of standard or extreme range scanning
Short, mid or long range 1D and 2D scanning—the SE4850 scan engine does it all. With its extended range, workers can capture barcodes in hand as close as 3 in./7.62 cm and on the uppermost warehouse racks—as far as 70 ft./21.4 m away. Capture the widest of barcodes at close range with the industry-leading field of view. The standard range 1D/2D SE4770 captures barcodes up to 24 in./60 cm away, and offers a large sweet spot for point-and-shoot simplicity.

See Beyond Data with Intelligent Visibility into Distribution Centre Operations
Operational Intelligence is a centralised, cloud-based platform to manage the complete lifecycle, operational visibility and performance analysis of assets, people and tasks.
With embedded hardware sensors designed into Honeywell products, the solution continuously extracts performance data that is periodically sent to the cloud for analysis.
Read more