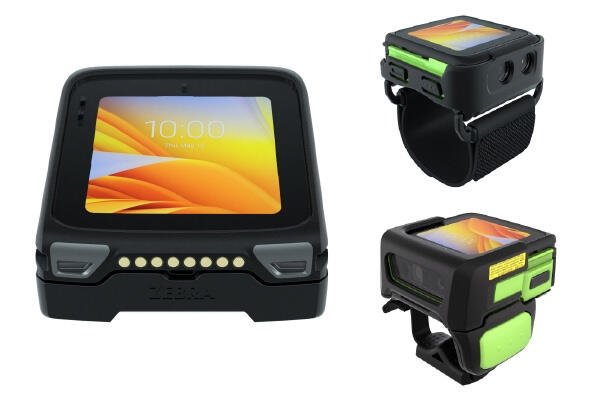 The World's Smallest All-In-One Android™ Enterprise-Class Wearable Mobile Computer
Designed for maximum flexibility – Connect your disconnected task workers with Zebra's WS50 wearable mobile computer
Every task worker without mobile access to relevant information is forced to take more steps and more time to complete tasks, eroding operational efficiency. Now, connecting disconnected workers is easy with Zebra's WS50, the world's smallest all-in-one Android enterprise-class wearable mobile computer.
This device is rugged, modular and at home everywhere—from manufacturing and warehousing to retail and hospitality. It's a versatile computing core with a modular design that lets users choose the mount that's right for the job: wrist, back of hand or two-finger.
The WS50 mobile computer is small but mighty, packed with powerful business class voice and data features that drive productivity and accuracy into every task. It is lightweight and ergonomic, comfortable and never in the way. Plus, with no host device required, the WS50 is the first of its kind, offering powerful data capture with all-in-one Android™ device simplicity.
Innovative Features:
One piece wearable
With the all-in-one WS50, workers only need to wear one device to capture and access data, instead of a host mobile computer and ring scanner, providing a true converged wearable solution.
Common core with modular mounts
The same computing device can be adapted to different use cases via mounts with application-specific features.
Android™ OS support
This industry-standard mobile operating system provides a future proof platform designed to easily accommodate new features and future technologies.
Advanced enterprise-class scanner for intense barcode scanning
The converged two-finger and back-of-hand mount WS50 models include Zebra's SE4770 imager, delivering superior data capture performance.
Integrated audio and PTT hardware ready
The WS50 improves collaboration and communication across the warehouse or manufacturing floor by giving users the power of instant voice communications with the embedded speaker and microphone.

See Beyond Data with Intelligent Visibility into Distribution Centre Operations
Operational Intelligence is a centralised, cloud-based platform to manage the complete lifecycle, operational visibility and performance analysis of assets, people and tasks.
With embedded hardware sensors designed into Honeywell products, the solution continuously extracts performance data that is periodically sent to the cloud for analysis.
Read more