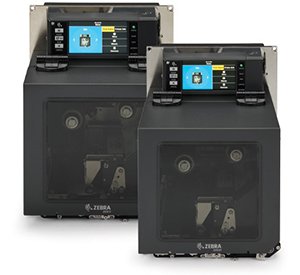 Push the Limits with Non-Stop RFID Printing / Encoding for Mission Critical Operations
Mission critical doesn't compromise – neither do Zebra print engines. Keep your operations advancing with the rugged ZE511 and ZE521, featuring all-metal construction, fast print speeds and unmatched intelligence to make your work easier.
With Zebra's exclusive, industry-leading Print DNA software suite, they're easy to setup, manage and secure – onsite or remotely. Use analytics to predict and schedule maintenance to prevent unexpected downtime. See printer status and change settings using the large, full-colour LCD touch display. Troubleshoot remotely, change printheads in seconds and swap out the modular drive for servicing to keep lines moving. Add RFID, connectivity and evolve to implement tomorrow's technology.
Contact us for further information
The primary markets for the ZE511 / ZE521 RFID are:
Warehouses
Transportation and Logistics
Manufacturing
Key applications include:
Shipping and receiving labels
Packing slips
Pallet and case labels
Cross-dock labelling
Bag labelling
Asset labels
Innovative features of the ZE511 / ZE521 RFID print engines
Engineered to endure in the harshest environments
The ZE511 and ZE521 RFID print engines deliver rugged durability to push the limits. Engineered without the need for cooling fans, their external cabinets are designed to resist debris and water ingress making them ideal in dusty environments or where water may be splashed.
Safe and secure
With Zebra Print DNA software suit, users can easily manage, monitor and troubleshoot their networked print engines onsite or remotely and push updates on their schedule. Zebra's exclusive PrintSecure application helps shield users from dangerous, costly IoT printer attacks.
Simple to maintain and service
Use onboard analytics to predict and schedule maintenance to prevent unexpected downtime. Troubleshoot remotely and swap out the extended-life modular drive via only three screws for offline servicing to keep workflows moving. Users can access components easily with the newly designed interior workspace which offers more room. Replace printheads in seconds without tools with the quick-release tab and socketed design that eliminates connectors.
Forward-focused to match evolving business needs
Printers should add to your customer's operations, not create obstacles. The ZE511 and ZE521 RFID print engines provide quick and easy access to settings, wizards and support via the large, full-colour LCD touch screen. Also, comprehensive communication options connect and communicate to the printer any way required.
Print and Encode with Ease
Featuring Zebra's own RE40 module, user can easily print and encode 4-inch RFID labels with the ZE511R and 6-inch RFID labels with the ZE521R for deeper visibility and insights in an ever-competitive business environment.

See Beyond Data with Intelligent Visibility into Distribution Centre Operations
Operational Intelligence is a centralised, cloud-based platform to manage the complete lifecycle, operational visibility and performance analysis of assets, people and tasks.
With embedded hardware sensors designed into Honeywell products, the solution continuously extracts performance data that is periodically sent to the cloud for analysis.
Read more