Increasing Warehouse Productivity Through Wi-Fi Performance
It's easy to assume that any wireless solution can be deployed into your warehouse facility with little to no issue. However, there's far more to this decision than simply installing a few access points (APs) and hoping for the best.
This approach does not consider the physical limitations of a warehouse environment – such as metal structures, beams and furniture, moving vehicles and changes to stock and inventory locations – and how these factors impact the integrity of your network. Wi-Fi networks that are not fit-for-purpose will continually encounter connectivity problems and signal dropouts that can affect productivity, impact revenue, risk customer confidence and cause unnecessary problems for the entire business.
A Wi-Fi network that is planned and designed carefully from the ground up, one that connects multiple areas and even multiple warehousing sites together with the installation of wireless bridges, will dramatically improve productivity, resource utilisation and inventory management.
Wi-Fi Surveys: the essential first step
To make that kind of informed decision, you need access to the right data. For any network upgrade or fresh install, a wireless site survey is an essential first step in developing an invaluable wireless network solution.
The unique features of your warehouse environment, the demands of the business and other related factors must first be taken into consideration before the network is installed. This is where a wireless site survey makes its biggest impact.
There are two types of wireless site surveys that you might want to consider:
1.    Wi-Fi Verification Site Survey
A Wi-Fi verification site survey is an ideal choice for existing sites that are already dealing with consistent connectivity issues. This type of survey would support an upgrade to an existing network or the deployment of a network to a newly built site.
This type of survey is the most common type used as it enables warehouse directors to analyse their current connection and clearly identify areas of said network that are currently suffering from poor coverage. Such a survey often includes a visit to the site in question where a team of specialists will perform readings in key areas.
A website survey will verify the coverage and capacity of the existing network and covers Wi-Fi coverage areas, application capacity, authentication, Wi-Fi roaming and quality of service. Other important considerations in the process often include network access and security, BYOD policies and future-proofing the scalability of the network.
2. Wi-Fi Desktop Survey
Desktop site surveys (sometimes referred to as 'simulation surveys') are designed for businesses that want to plan and optimise their network connection in a new site, typically before the premises are constructed.
Since a physical visit is often impossible in these instances, a desktop site survey will leverage the plans and blueprints of a site to design a network that's unique to its layout and dimensions. Tests such as Wi-Fi heatmaps will visualise Wi-Fi coverage and provide accurate predictive coverage mapping to define the correct locations for the cables and APs with the most reliable and effective Wi-Fi coverage possible.
Developing a Wi-Fi Project Lifecyle: for optimal impact
Building an optimal wireless network that sees no boundaries or obstacles from having an 'always on' connection to people and information requires a project lifecycle plan that incorporates all of this data to create a personalised solution for your wireless needs.
The core elements of an effective project lifecycle include:
Planning – It starts with a detailed plan, accurate testing and preparation, including the Wi-Fi site survey.
Design – Then the right combination of hardware, software and ongoing support are identified based on the unique demands of your warehousing operation.
Integration – Next, it's time for deployment. This includes integrating network switches into the existing stack and installing new APs, fibre and network cabling.
Optimisation – Now comes the time for testing and optimisation. Here your network can be stress tested to ensure consistent coverage across your site to ensure this new or refreshed network is stable, secure and performing at optimum parameters.
Maintenance – Finally proactive and consistent maintenance ensures the network is always performing across your warehouse sites. From remote technical support to swift hardware repair and replacement, your wireless network is always protected.
Businesses that initiate and execute an effective strategy like this one will stay on top of the unique needs of its premises to obtain the best Wi-Fi coverage possible, without fear of signal losses or blackouts.
Smooth roaming means warehouse staff can freely operate in a variety of locations, using devices such as handheld terminals (HTTs), handheld scanners, printers and other wireless-based mobile hardware and always have access to the data they need.
With a robust and problem-free network warehouse businesses gain maximum return on investment from maintaining productivity, efficiency and meeting revenue goals. Leveraging the insights of wireless site surveys and planning an effective strategy will ensure your network is future proofed and ready to scale with your growing warehousing operations.
Contact us for further information
Richard Gilliard
Managing Director, Renovotec
Published in :
Warehousing Logistics Internation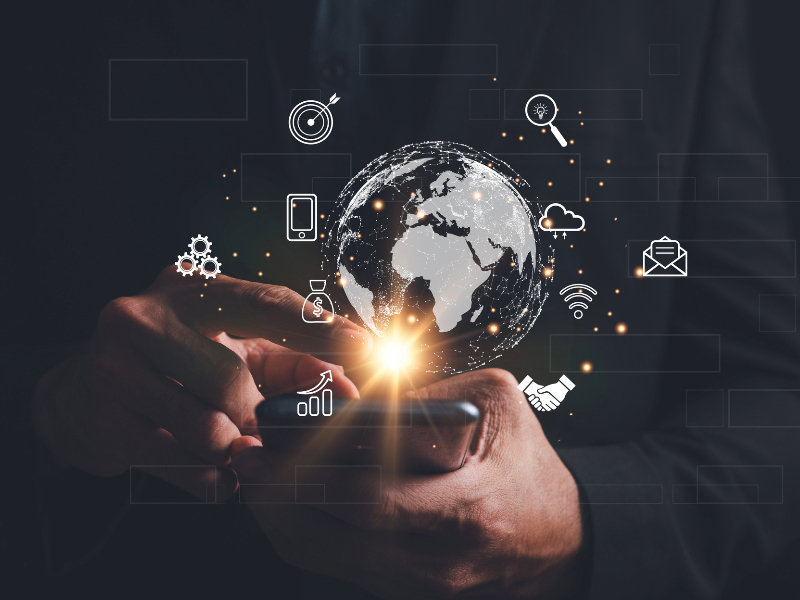 What are Managed IT Services and How Can They Enhance Your IT Infrastructure?
In a recent blog post, we explored why choosing the right Managed IT Services goes beyond offering a simple helpdesk function.
These services should be an extension of your IT infrastructure, enhancing its capabilities and resources by leveraging additional skills and expertise.
Read more