Without rock-solid Wi-Fi it is impossible for shops to be truly 'connected'
The High Street appeared to be dying and then Covid came along and kicked it even further while it was down. Many thought that could prove the fatal blow but pureplay retailers like Amazon started opening physical stores, followed by a growing number of other internet only retailers. But these are not your traditional bricks and mortar shops, they're far more experiential, try-before-you-buy concepts.
Last summer, for example, Swedish giant IKEA trialled a 'Home experience of tomorrow' retail concept in Shanghai where customers had access to a host of events like cooking and yoga and design advice sessions that could be booked online or on smart devices. It was also said to feature a range of digital services designed to streamline the in-store experience, including scan-and-go technology to avoid lengthy checkout queues.
Its mix of calm spaces and open squares were designed to allow visitors to interact, recharge and connect. Connected is the optimum word for, without a reliable and robust Wi-Fi network, an experiential visit could prove a bad experience!
Try-on stores are designed to carry full ranges of clothing in all the colours and all the sizes as the stock isn't actually sold, it's there to be experienced by customers before ordering. They can buy once they've tried on through an app in-store or later and have the goods delivered to their home. Such experiential, connected stores are being heralded as the way forward for reviving the post-Covid High Street.
According to one study, nearly three quarters* (74%) of shoppers claim to be happy for retailers to send email or text promotions while using in-store Wi-Fi, while 82% of people check their phones in-store before shopping. And why wouldn't you try to check stock in-store while you were there but latest figures† suggest that store stock checkers, measured since February 2020, have declined sharply since first measured and show no signs of a post-pandemic recovery.
But it's not just consumers that need visibility of stock. According to Zebra's 2021 Shopper Vision Study, nearly 8 out of 10 (72%) retail associates agreed that real-time inventory would help them provide a better experience. They cited price-checking and inventory as the most valuable and important use of technology.
Mobile devices certainly simplify life for both retail associates and consumers but secure and robust Wi-Fi is what keeps scanners, tablets, phones etc. all happily connected. Cloud-based solutions like Ruckus Cloud Managed Wi-Fi enable you to expand quickly and bring all your sites together into a single view. Their 802.11ac/Wi-Fi 5 and 802.11ax/Wi-Fi 6 access points use patented technologies to provide more coverage, more efficiently, and to continuously optimise each user's connection experience.
When cosmetics brand Lush wanted to mark its 20th anniversary by opening a flagship store in Hong Kong it required a fast and reliable wireless network to not only improve shopper experience but also better support back office functions like scanners, video conference calls and EPOS systems. Materials like wood and metals used in the store's design could cause wireless interference, leading to slower performance or disconnection, both of which were unacceptable in the flagship store.
Ruckus deployed R500 Unleashed 802.11ac controller-less access points that ensure smooth internal operation in the Lush Hong Kong store and enhance customer experience (CX). The network is both stable and reliable and allows for instant uploads, check-ins on social media and the opportunity for Lush to offer promotions.
During the pandemic people got used to digital processes like self-checkouts, to avoid interaction with in-store workers so the prospect of more scan-and-go technology to avoid queuing is going to be very welcome. Over three-quarters (79%) of people would be interested in paying for something in-store using the retailer's mobile app without interacting with a sales associate; this jumps to 87% with Gen Z and Millenials.
Connected, experiential stores could be what saves the High Street but poor experiences could damage brands. Frustrated customers could walk out never to return if wireless networks aren't up to the task. Today's consumers want seamless omnichannel experiences where online and physical experiences of a store are blended, don't let 'buffering' connections be the straw that breaks your camel's back.
*Source: Beambox
† Source: RETAILXUK Top 500
Source: CommScope RUCKUS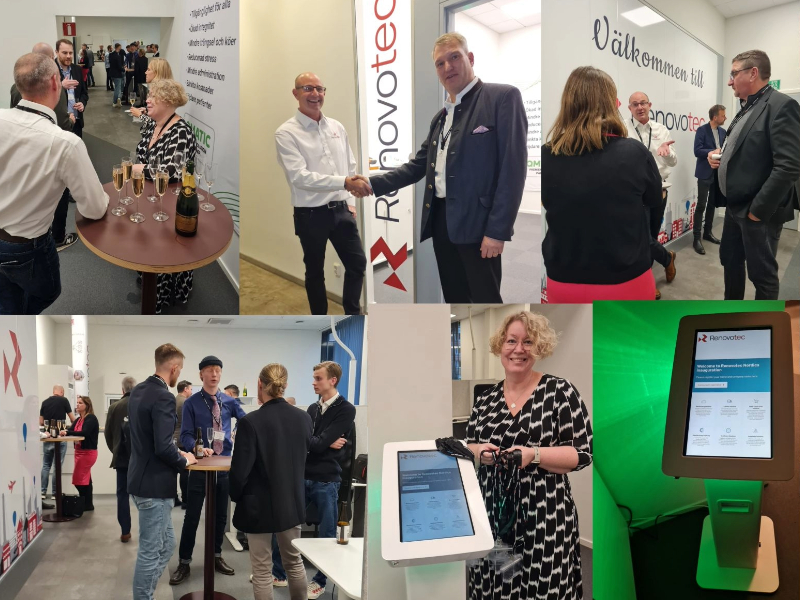 Renovotec Expands Global Footprint with Two New Offices
Fast growing AIDC provider responds to customer demand Warrington, UK – 9am BST, 24th October: Renovotec, the UK's fastest growing provider of end-to-end automatic identification and data collection (AIDC) technology solutions and services for organisations operating throughout the supply chain, today announced the strategically significant opening of two new offices, one serving the Nordic region […]
Read more