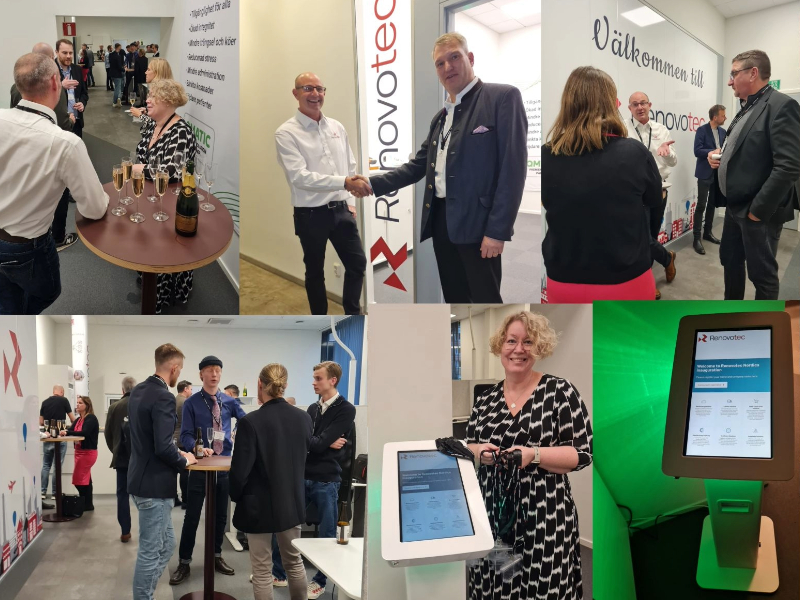 Renovotec Expands Global Footprint with Two New Offices
Fast growing AIDC provider responds to customer demand
Warrington, UK – 9am BST, 24th October: Renovotec, the UK's fastest growing provider of end-to-end automatic identification and data collection (AIDC) technology solutions and services for organisations operating throughout the supply chain, today announced the strategically significant opening of two new offices, one serving the Nordic region (Gothenburg, Sweden) and the other in North America (Chicago).
Founded in 2009, Renovotec is driven by a team of highly qualified specialists and backed by an ecosystem of trusted technology partners that includes Honeywell, Zebra Technologies and Ruckus Networks. Over the last decade, Renovotec has pursued an aggressive growth strategy. DigitalAir, its most recent acquisition, gives it a stake in the next wave of Wi-Fi innovation with solutions that span Wi-Fi 6 to best-in-class wireless analytics.
"Today we are launching two new offices in response to surging customer demand for our supply chain technology, our expertise and the experienced boots we have on the ground globally," said Richard Gilliard, CEO, Renovotec. "We've always had a strong focus on global expansion. The entry into the Nordic and North American markets represents a significant milestone in our evolution. By building pivotal partnerships we will further bolster our credibility in these geographies. We are now the largest consultative company in our industry."
Expansion into new regions and territories
The opening of the Chicago office will provide a platform for the company to build deeper relationships with key US distribution partners and respond to elevating customer demand in the region. North American partners include Zebra Technologies, Honeywell Safety & Productivity Solutions, Datalogic, SOTI and Ruckus Networks.
The new Nordic presence is led by industry expert Styrbjörn Torbacke. This is operated in collaboration with Qmatic. Qmatic is an existing partner and pioneer in queue management solutions. Renovotec established the partnership with Qmatic one year ago in the UK.
The Gothenburg office and distribution centre will significantly accelerate pan-European sales of customer journey management solutions and services. Specifically in industries that rely on delivering seamless customer experiences, improved employee experiences and greater operational efficiency.
"Our partnership with Renovotec has been a perfect fit,' said Mikael Hedlöf, CEO, Qmatic.  "Renovotec provides rugged hardware and service delivery that works seamlessly with our software platforms and the latest and most advanced technologies. With Renovotec experts managing our offices in the UK and Sweden, we are in a very strong position to increase our foothold in Europe together and deliver our joint vision of creating a world where everyone can access the services they need."
Company growth and Nordic event
Renovotec Ltd was 75% acquired by Stockholm-headquartered investment company Röko in March 2021. "The relationship with Röko will give us greater financial firepower, enabling Renovotec to grow more rapidly through acquisition and diversification," observed Renovotec MD (now CEO) Richard Gilliard at the time.
Now, according to Gilliard, "Renovotec has a presence in every major European region, and across North America. Next stop is Asia. We are building a strong foundation for continued growth."
As part of the company's launch into the Nordics, it will be exhibiting at the Logistik & Transport Conference in Gothenburg, Sweden, on 24th & 25th October. In conjunction with key partner and SAP supply chain specialist The Config Team, Renovotec will be showcasing its best-of-breed, end-to-end AIDC technology solutions and services.
About Renovotec
Headquartered in Newton-le-Willows, Merseyside, Renovotec is the UK's fastest growing provider of end-to-end AIDC technology solutions and services. It has European representation in the Netherlands and Scandinavia. It supports organisations operating in warehousing, retail and throughout the supply chain. Founded in 2009, the company offers reliable and tailor-made solutions. These leverage best-of-breed hardware, the latest software innovations, connectivity and industry-leading customer service. Our trusted one-stop-shop service empowers customers by helping them reduce costs, increase productivity, improve efficiency.  For more information visit:  www.renovotec.com
LinkedIn URL: https://www.linkedin.com/company/renovotec/
Twitter URL: https://twitter.com/renovotec
Media contact info:
Hannah Whitrow
M: + 44 (0) 7760 806 070
Renovotec Launches Printer Audit Scheme
Supply chain solutions and services company Renovotec is launching a free three-month trial for its printer audit service, the company announced today.
The audit helps a supply chain company to understand its printer estate: how many printers it has, where they are located and what condition they are in.
Read more