Taking Stock Of What 2023 Holds In Store
This year, supply chain disruptions and shortages topped industry challenges and became the butt of many a meme on social media, even the Wall Street Journal ran a wry feature on it.
Supply chain issues are now as common in daily conversations as our weather and rarely far from news headlines. The fashion sector is the most recent case in point, sitting on piles of unsold winter clothing from supply chain delays and unseasonably warm weather.
Disruption is the new normal and, while inventory and network optimisation tools are forecast to top technology adoption rates (87%*) in the next five years, it's arguable if that's soon enough. Without effective inventory control, it's hard to know where your inventory is, how much you have, what's moving fast or slow, and what needs shifting to make room for new stock. I'm sure some clothing brands could currently relate to that!
Fulfilling online orders requires high levels of inventory visibility and operational efficiency, from inventory and asset management, to voice-directed picking and proof of delivery. The rise in customer demands, technological advancements and fierce competition is pressurising organisations to speed up order fulfilment and optimise their operations.
Should we then be surprised that the greatest barrier* to adopting any supply chain innovation and technology is lack of a clear business case to justify the investment? Probably not. It's hard putting a framework together to invest in new technologies when you're plate-spinning supply chain disruptions and staff shortages while trying to keep a hand on the profitability tiller.
Such pain points were common in visitors to our exhibition stands this year as was limited access to capital investments. It's not surprising therefore that our discounted rental scheme, which sidesteps inflation and protects supply chain company capital, continues to prove a manageable solution for many. It helps upscale capacity during seasonal spikes and enables the phasing in of Android devices like Honeywell's ScanPal EDA55 mobile computer.
Staff shortages will continue in 2023, indeed 29%† of third party logistics (3PL) believe it's a permanent shift. It's heartening, however, that over 4 out of 5 (84%†) of them are already implementing or assessing new technology or automation to reduce dependence on manual labour. Supply chain is traditionally seen as operational but some suggest that, as it grows, the supply environment will require greater planning, analytics and strategy skills thus making it more attractive to top talent.
Until that point, our free Warehouse Walkthrough scheme can help identify key areas for reducing staff by up to 30% as well as pinpoint where technology intervention can boost operational productivity. You could potentially halve warehouse walking time and increase picking speed and accuracy by 35%.
And it is data that will help make such informed decisions. Some companies are also adding community data like geopolitical conflict and other global issues to their existing data to take pre-emptive action such as rerouting goods to avoid disruption. Data capture is priceless and it's just one area where we're looking to acquire businesses to support our pan-European growth plans.
Our team will, as usual, provide support over the festive period and I'd like to finish by wishing everyone season's greetings. I wish I could promise a more optimistic 2023 but it looks set to bring more disruption and shortages with the added complication of inflation. Now, more than ever, is the time to see how digital transformation could improve your performance and profitability. It doesn't have to be all-encompassing or happen all at once. We'd be happy to advise.
Renovotec is the UK's fastest growing provider of rugged mobile hardware; as well as delivering end to end managed & consultancy services, robotic solutions wireless networking, enterprise mobility, mobile data capture, printing and hardware rentals solutions. With over 25 years of industry experience, Renovotec supports customers across multiple industry verticals – including warehousing, transport & logistics, manufacturing and field mobility. For more information call 01924 600480.
*Source: 2022 MHI Annual Industry Report
† Source: NTT Data Annual Third Party Logistics Study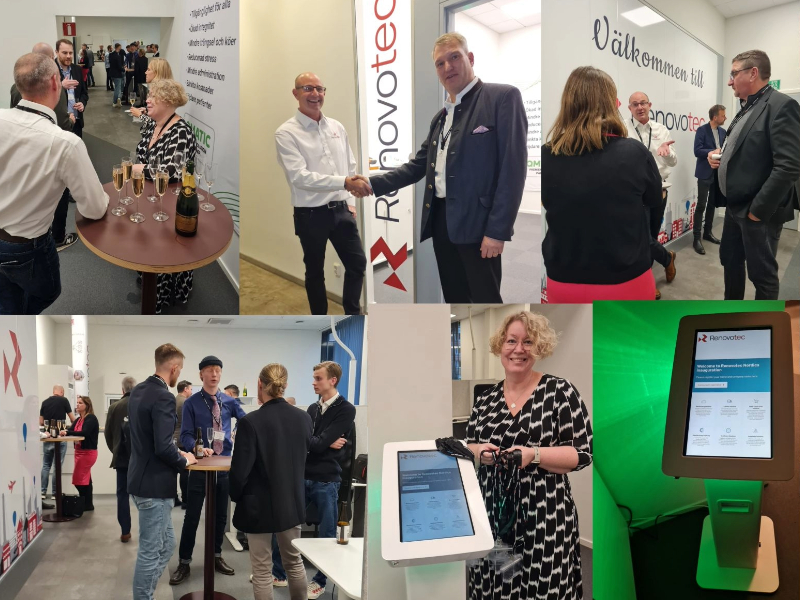 Renovotec Expands Global Footprint with Two New Offices
Fast growing AIDC provider responds to customer demand Warrington, UK – 9am BST, 24th October: Renovotec, the UK's fastest growing provider of end-to-end automatic identification and data collection (AIDC) technology solutions and services for organisations operating throughout the supply chain, today announced the strategically significant opening of two new offices, one serving the Nordic region […]
Read more