Three Considerations for Warehouse Expansion and How They Impact Productivity
Omnichannel is Driving Warehouse Expansion
With an expansion of retail omnichannel experiences, some of the world's largest retailers are spotting further opportunities for growth by acquisition. The recent announcement of Next acquiring Joules to help save it from administration was largely driven by the Total Platform Infrastructure that Next has accumulated and invested in. This platform embodies their core IT network, fluid logistics processes as well as customer services and online experience.
Some of the world's largest warehouses are now operational across the UK. Panattoni has just completed a warehouse construction last year with a footprint of 625,000 sq ft, the building includes three internal, multi-level structural floors totaling 1,642,000 sq ft, 66,000 sq ft of offices on the ground floor and a further 70,000 sq ft of amenity areas, with over 3,500 steel piles.
This article will explore the challenges these vast spaces create for technology and some considerations to take into account.
1. New Scale of Warehouses Can Usually Cause Problems for WiFi
This construction is impressive but creates many challenges for Wireless technology to work: the breadth of coverage, elimination of blackspots as well as the steel and metal frames absorbing signals.
However wireless environment for warehouses and all its connected devices is essential to keep the workflow moving and to ensure a modern workplace with a robust environment. Security on the network is essential especially as good are delivered and collected throughout the day and non company employees have access to the site and its network. This is more of a consideration now more than ever at a time when some of the largest warehouses ever built are now in operation.
With so many factors to consider, this article highlights the best place to start and some of the market leading technology to help your warehouse operations stay robust and secure at the busiest time of the year.
Renovotec has over 25 years of WiFi experience with industry leading relationships with WLAN vendors.
"From site surveys, design and planning through to installation and commissioning of your networks, our expert team offers ongoing maintenance support and remote monitoring and health checks to keep your network at top working order" Richard Gilliard, Managing Director, Renovotec UK.
SOTI MobiControl's new Indoor Location Tracking feature works in real-time to locate devices indoors. The solution is WiFi positioned and integrated with Cisco CMX as a multi-tennant cloud hosted solution, to provide numerous unique location services. It tracks both manned and unmanned devices inside the company four walls.
2. As Warehouses Scale, So Too Must Enterprise Mobility Management (EMM)
This same diligence is also essential for mobile devices and the deployment of more devices as organisations grow. With larger spaces comes more employees, and the growing concern of security and lost devices covering the entire area. Ranging from scanners, to mobile phones, POS equipment in Retail and wearables and mobile computers, a recent report states that 36% of employees lose their mobile phones, which costs businesses £550 per individual on average to replace.
"Not being able to locate or manage devices can cause businesses to face financial strain and experience a decrease in productivity. In various industries, that could mean a tablet lost in a retail outlet, a handheld scanner lost in a transportation and logistics (T&L) warehouse or a smartphone lost in a healthcare facility," said Faki Saadi, Director of Sales, France, UK and Ireland at SOTI. "Beyond the direct cost of replacing a mobile device needed for an employee to complete their workplace critical tasks, the downtime associated with not having the right equipment available is significant," Saadi added.
3. Keeping Track of Handheld Scanners and Wearables in Huge Warehouses
With wearables, having a secure, software solution to alert employees and set notifications to remove the wearable and return it to its charging dock after each shift, is a simple way to ensure devices are locked down and managed at the end of every day. Other notifications to remind devices to be returned to charging bays for their next shift also ensures maximum productivity and smooth transition between shifts and workers.
"Organisations now need to do it all: speed up distribution processes, whilst ensuring employee comfort and job satisfaction, with maximum productivity per head, per warehouse.  At the essence of logistics is accuracy. With a scan of over 6 metres range, we are helping to transform warehouses into digital ready businesses. Our Wearable scanners are egonomic and extremely comfortable and lightweight, enabling fast returns on investment.", Carlos Villafane, Country Manager, Proglove UK, Ireland and The Netherlands.
Working with industry leading partners SOTI, Renovotec and Proglove ensures you have global expertise in your warehousing, T&L and Retail solution. Benefitting from advice on how to simplify and automate processes to improve ROI and productivity.
To find out more about our Wi-Fi, wearable and EMM solutions, and how we can help with your warehouse solutions into 2023, please contact us.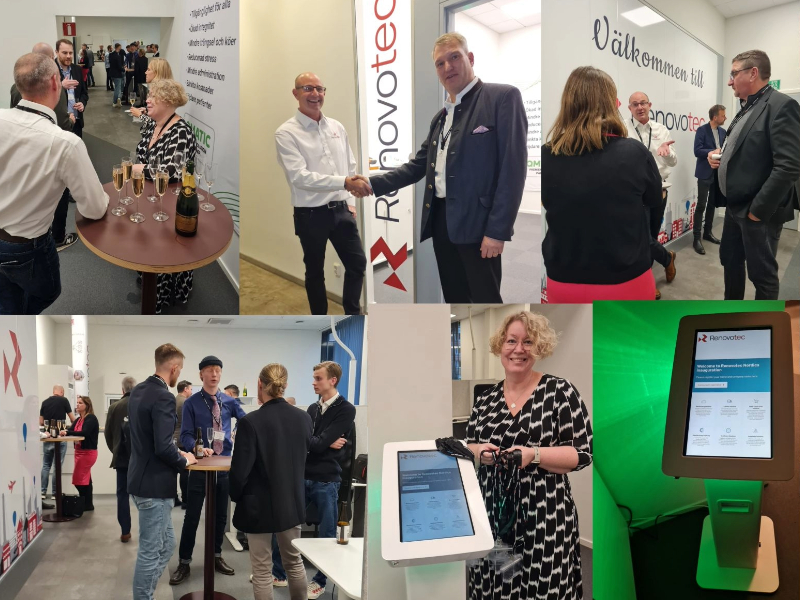 Renovotec Expands Global Footprint with Two New Offices
Fast growing AIDC provider responds to customer demand Warrington, UK – 9am BST, 24th October: Renovotec, the UK's fastest growing provider of end-to-end automatic identification and data collection (AIDC) technology solutions and services for organisations operating throughout the supply chain, today announced the strategically significant opening of two new offices, one serving the Nordic region […]
Read more