3 ways technology partnerships help with your business critical device strategy
Introduction:
Renovotec, Datalogic and SOTI are joint technology experts across warehousing, retail, transport and logistics, eCommerce, and the supply chain who have worked together for almost a decade.
Due to the rapid surge of eCommerce, this has driven strategic change to the selection of mobile devices being used, the features requested, and all supporting technologies and applications being pushed out in a secure manner. As customer demands change, so too do the device and technology priorities and overall requirements adapt.
This article, one of six in the series with Datalogic and SOTI, will help with the device considerations as part of a long term, critical business plan. This first article in the series discusses the importance of choosing the 3 ways this partnership delivers benefits to our joint customers with Renovotec and the key considerations when starting your device journey.
1. Device form factor, flexibility, and ergonomics
Datalogic was founded in 1972 and is headquartered in Italy. Datalogic's portfolio includes the latest developments in barcode readers, mobile computers, sensors for detection, measure and safety, and vision and laser marking systems. In May 2021, Renovotec was awarded the highest partner accreditation level by Datalogic and is now a Diamond Partner. The Renovotec and Datalogic partnership has grown steadily over the years and collaboration has ensured customers have early access to the latest products and innovations.
Stephen Butler, County Manager, UK and Ireland for Datalogic concludes, "Renovotec's advancement to diamond partner status recognises the company's continued commitment to Datalogic. There is a lot of synergy between our two companies and we look forward to leveraging our combined experience and knowledge to provide our customers with robust and reliable solutions that drive real improvements in their businesses."
Form factor, flexibility and ergonomics comprise a significant part of a device strategy. If a device is heavy to use, difficult to hold and is not interchangeable from one job to the next, this can hinder your business operations performance and productivity, let alone your employee's motivation to do their job. Access to a range of supporting accessories can be essential to a member of staff, but not seen as a critical part of the solution or project, for example. Access to the latest device technology such as far-reaching barcode scanners, useful in high rack warehousing environments or movement of pallets make jobs easier, let alone drives productivity. Ability to bar code scan effectively at a range of heights with a handset that fits the user, simplifies the job at hand and reduces employee stress.
Automation can go so far in helping underpin some of these issues, but strong battery life, with choice of form factors for users to choose from, whilst being lightweight if being held for extensive periods are all critical factors to your device strategy. However, achieving this with a high performing mobile computer or scanner is an engineering feat.
Providing the users with the best device for their needs, with choice of a range of features to satisfy their demands, alongside the organisation's goals and reassurance of Return on Investment (ROI) is the key.
"The Skorpio X5 enables retail, transportation and logistics, manufacturing, and healthcare companies to reach new levels of reliability and flexibility. This ultra-fast, high-performing, key-based mobile computer has the largest multi-touch display in the Portable Data Terminal (PDT) market. We have provided our customers with an insight into this exciting new product through offering trials and device rentals." Richard Gilliard, Renovotec Managing Director.
2. Seamless device deployment, configuration, and management
Renovotec's core Mobile Device Management and Enterprise Mobility Management partner is SOTI. SOTI has been the market leader since 1995, and with over 19000 clients globally and a growing portfolio of solutions and diverse global projects, customers have the peace of mind that their device management, deployment, and configuration is secure and available anytime in the Cloud, from any location. The SOTI and Renovotec collaboration, alongside Renovotec's Platinum Partner Status with SOTI enables customers to gain unique insight and the sharing of best practice from a range of industry wide projects, both locally and globally.
"Collectively, we have enjoyed a longstanding, 8-year relationship, working together with SOTI and developing our joint customer base together, in warehousing, transportation and logistics, and retail." Richard Gilliard, Renovotec Managing Director.
SOTI MobiControl gives organisations visibility and control over all their device sin one simple drag and drop console. Devices can be grouped and identified with each under user profiles, and new software updates and applications pushed out remotely as required without interrupting day by day operations. You can also see how devices are performing, and a=ny compliance risks or security issues putting your organisation at risk.
Renovotec's Platinum Partner status with SOTI ensures that we also have access to the best technical and customer support teams, 24/7. The SOTI MobiControl solution is embedded on 95% of our customer devices to manage, configure and deploy handsets in the field. The software is easy to use, and the data we gather allows customers to analyse the reports and identify certain issues they may not have otherwise been aware of.
"Being able to see all your devices in the field, managed into profile groups, provides IT teams with peace of mind for remote support. It also ensures a customer's entire device fleet can be easily updated with the latest software and applications, without the need for removing devices from the field. This simple but critical way of working with SOTI MobiControl Cloud ensures business continuity at a time of constant change." Stefan Spendrup, VP Sales, SOTI.
3. Device rental and managed service support
Often customers want one contract, one support specialist and one point of contact. Renovotec is the safe pair of hands our customers need to look after and support their entire device fleet, to help with additional SOTI licenses and advise on roll out strategy and support requirements. New trials requests, and the flexibility to add new devices as organisations scale is key:
"One challenge when the world is shifting so quickly, is confidence for a set period such as 3 or 5 years, let alone the capital outlay of outright purchase. Renovotec now offer device rentals and free license trials, which really help our custom
ers with their budget management, and provides the flexibility and time needed to adjust." Richard Gilliard, Renovotec Managing Director.
Not only do Renovotec offer hardware trials, they also offer customers the experience of the SOTI One Platform at first-hand by registering for a free trial on any of the SOTI solutions below.
Explore Datalogic Devices & Solutions
Register for Free SOTI Trial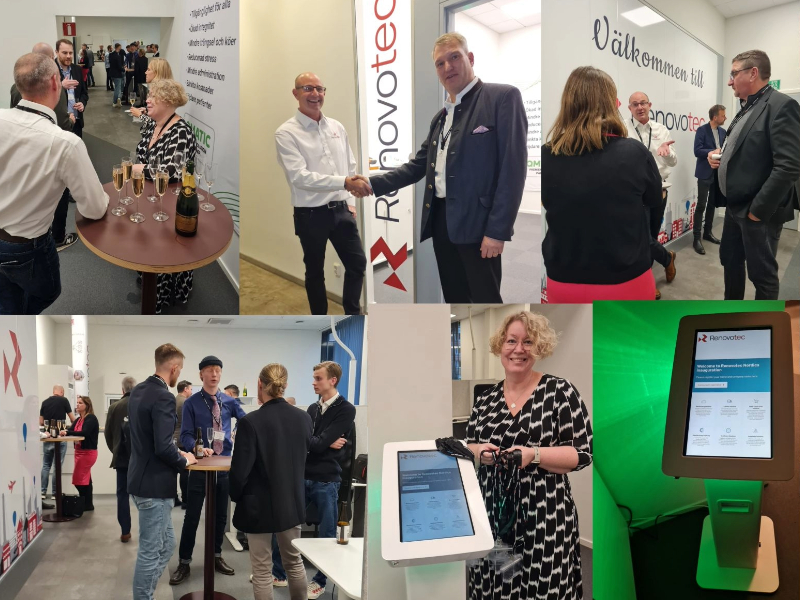 Renovotec Expands Global Footprint with Two New Offices
Fast growing AIDC provider responds to customer demand Warrington, UK – 9am BST, 24th October: Renovotec, the UK's fastest growing provider of end-to-end automatic identification and data collection (AIDC) technology solutions and services for organisations operating throughout the supply chain, today announced the strategically significant opening of two new offices, one serving the Nordic region […]
Read more