The Changing Tide Of Warehousing: How Modern Technology Partners Can Help.
Warehousing and the manufacturing sector are undergoing a technological transformation. From the challenges of social distancing in the warehouse impacting production and changing how warehouses operate, combined with a surge in eCommerce and omnichannel driving demand for digital and data driven operations, Warehouse Management Systems (WMS) and solutions are being modernised.
Below we look at two key areas of technological change and how Renovotec, with their partners Honeywell and SOTI, can help with your technology decision making.
1. Scalable automation solutions
Our recent article addresses how warehouses are technologically vulnerable, with a reliance on manual operations and manual data entry for fulfilment. The dramatic changes to eCommerce and the omnichannel over the last 12-18 months have highlighted the cost of manual process errors such as:
Lost sales – one picking error can impact a customer's satisfaction with an entire order.
Returns – the cost of documenting the problem, return shipping and retagging.
Additional shipping – not just the expense of the return, but also the expedited replaced / correct item.
Customer service costs – fielding the complaint and resolving the issue.
Repackaging – if the item can be reused, then the item will need to be repackaged.
Warehouse labour costs – a picking error could be a stocking error which then requires a full cycle count at that location.
Sales costs – persistent fulfilment issues interrupt your sales process, and as such, sales teams spend less time selling and more time resolving issues with customers.
Shifting retail operations to online requires Warehouse Management Systems (WMS) and processes to be automated and modernised. From picking and packing right through to backend automation of shipment and customer services functions. The challenge is knowing where to start.
45% of IT Managers in SOTI's Mobilising the Delivery Workforce: State of Mobility in Transportation and Logistics 2021 Report claim that updated information is not shared or that staff manually update multiple systems. Purchasing decisions do not consider technology that can support older operating systems, form factors, or have flexibility for both on-premise and cloud deployments. These purchasing considerations must be thoughtfully examined, and survey data reveals that workers in the industry recognise this as a business requirement.
The UK is home to hundreds of Fulfilment Centres – Amazon's is the size of 14 football pitches at 1,000,000 square feet. Although they employ thousands of staff and hire seasonally to deal with busier periods such as Christmas and Black Friday, robots are required to assist with high-volume fulfilment tasks, enabling performance, speed, and flexibility to scale up and down as demand dictates. The evolution of robots is also impacting distribution centre processes as robots become more sophisticated and smarter: from costly Automated Guided Vehicles (AGVs), to more sophisticated Autonomous Mobile Robots (AMRs) with inbuilt computers and sensors that help it understand its operating environment and recognise obstacles.
Software and data capture technology, with rugged devices connecting to AMRs and automated fulfilment systems, are building operational intelligence right through every touchpoint in the warehouse.
"At Renovotec we have a vast range of warehousing solutions from CartConnect to RollerTop. However, the surge of eCommerce has pushed forward the need for data capture and for the analysis of operations. SOTI's industry leading Enterprise Mobility Management solution, SOTI MobiControl – supported on a vast range of rugged handheld devices – is complemented by Renovotec's expertise in analysing data and helping organisations identify business trends to future-proof their investments. This is where our unique relationship with SOTI and Honeywell really comes into its own." Richard Gilliard, Renovotec.
2. Data driven warehouse and operation solutions
Two key reasons to be more data centric in warehousing, is to better analyse operations and to create efficiencies; the capitalisation of existing assets, working at optimal capacity to maximise profitability.
Voice picking in distribution centres is an easy-to-implement solution for organisations looking to increase picking tonnage per hour. The solution from Renovotec is supported on a range of Honeywell devices such as the A700X Series. These devices can all be centrally configured and managed by SOTI MobiControl; software updates are pushed out to the devices centrally. Support can be managed remotely through the SOTI ONE Platform, reducing downtime, and keeping employees out in the field.
Henry Colbeck's Financial Director states "our analysis shows a significant increase in both the items and tonnage picked per hour" with tonnage per hour up by 29% following a recent performance report.
One of the largest warehousing modernisation projects lead by Renovotec using voice picking technology is with Whitworths. With an agreed project ROI of less than one year for the new voice picking and wireless networking infrastructure investment, this project is led by a 35% increase in voice-driven picking productivity. The unique middleware provides a 'guided workflow,' telling the user which area of the warehouse to go to and what product to select.
Every touchpoint in a warehouse can collect data and it is imperative that the devices are secured, well supported, maintained, and managed. From entry systems to security through to order fulfilment and shipping, each touchpoint can be capturing business-critical data to help make operational decisions.
"Efficiency of warehouse facilities has become the latest pressure point. Yielding more return per square footage than ever before and scaling operations – both up and down – to accommodate demand is a huge skill for data accuracy and analysis." Sarah Edge, Sales Director, SOTI.
70% of IT Managers in the latest SOTI Report state the need to reduce downtime of mobile devices in the field as a top business concern. The research looked at the main causes of downtime and delays in shipments. Almost one third of respondents explained that drivers not having immediate access to IT help to remote onto their devices, IT technology designed to resolve mobile device problems, or training apps to help them manage or fix the devices independently while on the road, were the highest causes for downtime and delays. This rose to over a third in North America.
A core challenge is knowing which technology to invest in first, with a plethora of options and devices to choose from. Renovotec offers a full 'try before you buy' scheme on any device, through Renovotec Rentals. Honeywell devices come with a SOTI licence trial, to help ensure your mobile investment decision provides the operational improvements and outcomes desired. Key benefits include:
Flexibility to increase and decrease the number of devices to match your operational workload.
Enhance your productivity.
Remove the hassle of implementing and managing additional devices.
Take advantage of support and maintenance packages that provide complete peace of mind.
Range of Honeywell devices to choose from, ready to use straight out of the box.
"It is our belief that every Renovotec customer has the opportunity to trial any device to make sure the solution delivers exactly what is expected for their business. Often companies are working in a hybrid environment with several hundred or thousands of devices and need the reassurance that their in-house applications and the migrations to other devices can be handled." Richard Gilliard, MD Renovotec.
For a free 30-day SOTI MobiControl trial, click here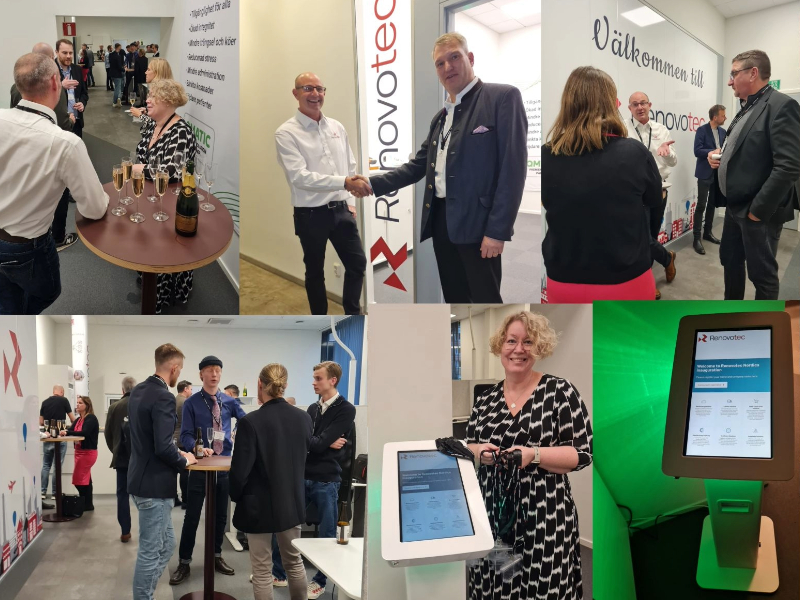 Renovotec Expands Global Footprint with Two New Offices
Fast growing AIDC provider responds to customer demand Warrington, UK – 9am BST, 24th October: Renovotec, the UK's fastest growing provider of end-to-end automatic identification and data collection (AIDC) technology solutions and services for organisations operating throughout the supply chain, today announced the strategically significant opening of two new offices, one serving the Nordic region […]
Read more