Horizon Scanning for RAIN
I'm not doing a follow up on searing temperatures of this summer, more of an industry call to see greater adoption of RAIN RFID. There is an environmental benefit to it in that it can enable sustainability through waste reduction and increased recycling. But I want to focus on how it can increase your productivity and reduce inventory costs across your manufacturing and logistics ecosystem.
In its report 'Adopt Next-Gen RFID Tags to Transform Technology Deployments Across the Supply Chain', Gartner claims that by 2025, new generations of RFID and/or electronic tagging will feature as a core component in 20% of technology solutions deployed across supply chain networks.
Next-gen RFID is cheaper to acquire and more flexible to deploy, while the latest generation of fixed industrial scanners (FIS) and machine vision (MV) smart cameras can track manufacturing assets and processes with greater speed and accuracy, thanks to sensor technology and data analytics. In combination, these technologies can enable productivity improvements of 30%.
Real-time inventory tracking is a priority for decision makers, with 61%* planning to implement it within the next twelve months as part of plans to modernise warehouses; 93%* hope to achieve it by 2027.
Indeed, inventory accuracy and asset visibility are one of the top three* challenges of increased ecommerce, and they're especially critical for manufacturers. RFID in manufacturing helps to not just automate parts tracking but also improve production control, even with increased model variants and volumes.
And whether we like it or not, we live in an individualistic culture where offering multiple product models or configurations isn't enough to satisfy today's consumers, they want personalisation. It's particularly evident in automotive manufacturing, where vehicle customisation has become the new production standard.
RFID provides an economical way to automate multiple inbound logistics and intralogistics workflows and, effectively, reinvent production lines and larger-scale supply chain operations. RFID enables just-in-time (JIT) manufacturing, as it puts the right parts, in the right place, at the right time.
And RFID tags offer more advantages over traditional labelling when it comes to automated Industry 4.0 processes. They:
Are more durable and more accurately identified than barcodes, especially at a distance
Don't require line-of-sight or a light source to be read, a dramatic advantage over technologies like barcodes.
Can operate across large areas. Fixed RFID readers, such as Zebra's FX9600, can be installed at loading docks and automatically identify deliveries and direct them to the right areas without human intervention.
One point to note about RFID label and tag quality. They must be readable at a distance for the life of the product they're attached to, be it a car component exposed to road grime, or a carton packed into a pallet. Not every label is up to the task so it's worth using certified supplies to maximise the benefits of RFID and robust printers like the ZT600 series.
Two years ago, Gartner claimed that 59% of supply chain technology users ranked RFID and other forms of electronic tagging techniques as 'important' and recommended users should adopt RFID as a viable technology option. It undoubtedly offers cost savings through:
improved accuracy rates (less manual operation and human error)
increased productivity (less disruption)
higher margins.
All tangible benefits of RAIN RFID solutions but, to my mind, one of the most interesting areas is the data insight the tags provide. I can see them evidencing areas like predictive analysis in the future, which'll be as right as RAIN.
Renovotec is the UK's fastest growing provider of rugged mobile hardware; as well as delivering end to end managed & consultancy services, robotic solutions wireless networking, enterprise mobility, mobile data capture, printing and hardware rentals solutions. With over 25 years of industry experience, Renovotec supports customers across multiple industry verticals – including warehousing, transport & logistics, manufacturing and field mobility. For more information call 01924 600480.
*Source: Dynamic Markets Demand Warehouse Agility. Zebra Technologies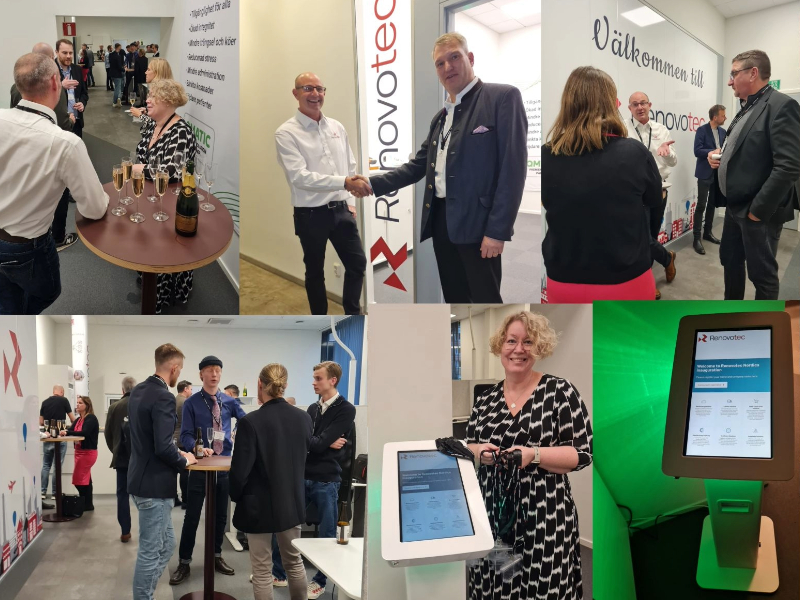 Renovotec Expands Global Footprint with Two New Offices
Fast growing AIDC provider responds to customer demand Warrington, UK – 9am BST, 24th October: Renovotec, the UK's fastest growing provider of end-to-end automatic identification and data collection (AIDC) technology solutions and services for organisations operating throughout the supply chain, today announced the strategically significant opening of two new offices, one serving the Nordic region […]
Read more