Why now is the right time to assess your mobility needs for Black Friday and Christmas.
Introduction
At this time of year, the retail, transport, and logistics sectors have settled back into work after the summer holidays and are now busy preparing for Black Friday and Christmas. From a resourcing perspective, it is about planning for the festive period, the year ahead and looking into recruitment plans and budgets. For IT teams, it is also a time to take stock of what is required in the run up to Black Friday and Christmas and any updates required to core infrastructure.
For the whole supply chain, now is a critical time to investigate any new or impending legislation that impacts your sector, such as Natasha's Law as well as assessing the impacts of any topical events, such as the lack of HGV drivers in the UK.
This article shares three pieces of advice on why now is the right time, to start planning for the year ahead:
1.      Know your device landscape
Take the time to survey and review all your mobile devices, from staff working at home, in the office, on contracts, right through to those out in the field with customers. With SOTI MobiControl you can categorise into device type, location, groups, and users.  Using the software, you can then easily allocate permissions and rules for those devices within each group, based on job role, user type and access permissions for each application.
"Knowing your device landscape; what devices are active and inactive, which models, what network, what OS, and which groups are using specific applications and software. This helps businesses assess their costs, as well as any supporting software or frequent updates required to keep business operations moving." Sarah Edge, SOTI UK Sales Director
Equally, being able to tailor your device by user group, and to centrally manage and standardise multiple platforms, OS and generic device settings, provides speed of set up advantages for IT teams. Settings based on location and environment can drive significant productivity gains for your organisation.  Common settings can be standardised across devices and platforms. For example, the Datalogic Matrix™ readers have the capability to create different reading solutions, based on several setups of illumination, exposure time, gain, contrast, and so forth. The Continuous High-Power Mode (CHPM) is the perfect internal lighting configuration that avoids any flickering effect. Compact, robust, high-performing industrial cameras are perfect for zero touch environments such as Pick-To-Light, Order Fulfilment and lots of Goods-To-Person environments.
"Device features that drive the highest standard in user experience, result in driving the fastest ROI and business productivity benefits. The easier they are to use, the more powerful the results." Stephen Butler, Country Manager, Datalogic.
2.      Include device support in the Total Cost of Ownership (TCO)
When looking at the Total Cost of Ownership (TCO) on-going support costs also need to be factored in. SOTI ASSIST focuses on first call resolution. User acceptance and adoption speeds up as issues are quickly resolved. Being able to add a ticket with photo images showing the problem, not only helps IT administrators understand whether this is a device specific issue or if there is an update that needs to be pushed out for an entire group. But also helps users be assured their issue is understood and communicated clearly. Each device is unique, can have different setting and as such the device support costs can quickly escalate.
"Renovotec is committed to working with all industry experts to ensure we deliver the best projects to our customer base, on time with best-in-class service and support. Being able to offer high end hardware and software from industry leaders Datalogic and SOTI on a monthly rental term is further exceeding the ROI expected in today's modern warehouse" Richard Gilliard, Managing Director, Renovotec.
Delivering functionality to these devices, to drive productivity with firmware updates to OS and additional security patches, can be pushed out to the whole fleet in seconds, and SOTI MobiControl is critical to this.
3.      Knowledge is power – what data can you access?
As job roles change, so too do the demands of mobile devices. An increase in application usage, surge in video conferencing software and requirements to use share drives during the COVID pandemic, has made remote working easier. However, this has placed demands on IT administrators looking after those applications, the devices as well as the security around them.
Often applications use too much data, and being able to analyse what is being used and whether it is redundant and can be deleted is a quick way to reduce complexity on the device, as well as reduce support and administration tasks for IT.
SOTI MobiControl is not limited to laptops and smartphones. It also incorporates handhelds, printers, and scanners from global manufacturers such as Datalogic. Integrating these into the same EMM console, ensures you can capture data to measure and improve productivity levels and fulfilment targets in the warehouse, leading up to Black Friday and the Christmas period. You can also set notifications if the productivity levels drop, and this can trigger an alert to send an email or an SMS for example for investigation.
Traceability solutions, such as stationary readers, confirm that labels have been applied and are readable. It's ideal to deploy one reader that can read all materials including paper, packaging, plastics, and metals, so there's no need to carry multiple readers for different processes. Latest area imagers, like the Datalogic Matrix™ family, can provide pictures as automatic POD (Proof of Delivery).
"A fast turn on investment is possible with access to accurate real-time data, for analysis and troubleshooting. For example, we know that the Datalogic HandScanner is proven to save 4 seconds per scan with 33% less error rates than other leading scanners. This enhances your operational performance and triggers workflow improvement to maximise your investment" Stephen Butler, Datalogic Country Manager.
Despite an industry-wide computer chip shortage and a shortage of truck and forklift drivers, Renovotec remain at the forefront of device supply and expertise to keep customer projects moving.
"We always hold plenty of hardware in stock and so can weather the current storm" comments Renovotec CEO Richard Gilliard. "Our strategy of maintaining healthy inventory level
s stands us in good stead as it allows us to meet customer sales and rental needs with greater speed and certainty."
Find out more about SOTI MobiControl Free Trial
Find out more about Hardware Rentals
* Wi-Fi CERTIFIED 6™, the industry certification program based on the IEEE 802.11ax standard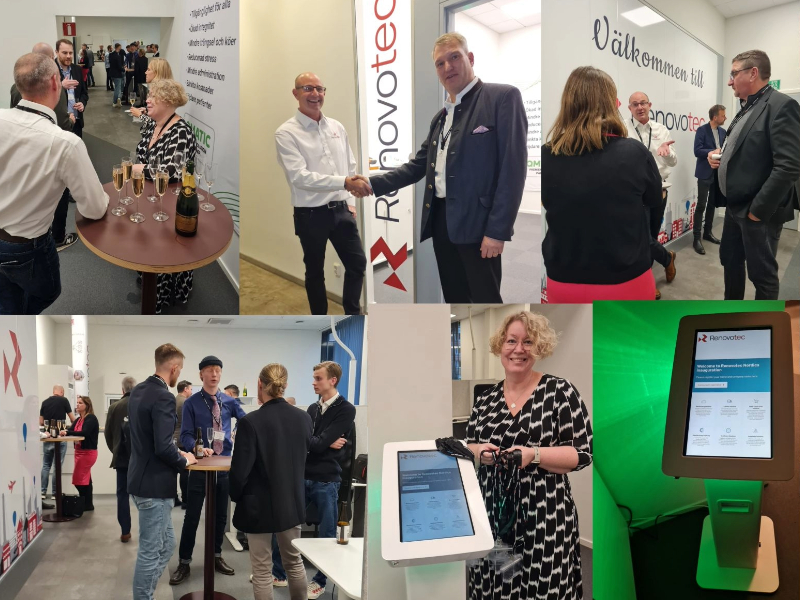 Renovotec Expands Global Footprint with Two New Offices
Fast growing AIDC provider responds to customer demand Warrington, UK – 9am BST, 24th October: Renovotec, the UK's fastest growing provider of end-to-end automatic identification and data collection (AIDC) technology solutions and services for organisations operating throughout the supply chain, today announced the strategically significant opening of two new offices, one serving the Nordic region […]
Read more