'Breaking' news on next-gen wireless technologies
Back in 1976, a citizens band (CB) Radio craze swept the US and UK, spawning some fairly dreadful chart singles and the screening of films like 'Breaker! Breaker!' and 'Convoy'. Ironically, CB radio wasn't legalised in the UK until 1981, even though Wikipedia claims it was being used at ports like Liverpool, London and Southampton as early as 1968.
Well, like all good crazes, CB could be making a big comeback except this time, citizen band radio service (CBRS) marries the best of Wi-Fi and cellular technology. Indeed, a single CBRS base station can provide the same coverage as 10 Wi-Fi access points! Never before has CBRS been available to enterprise customers but now, under general authorised access (GAA), they'll be able to create sizeable networks that either stand-alone or support Wi-Fi or cellular ones.
And this could prove especially useful in vast transport and logistics environments like shipping ports and airports spanning thousands of acres, or in large warehouses with high volumes of users and IoT devices. To create a Wi-Fi network that tracks containers or baggage in real time in such sizeable indoor/outdoor settings would not only be expensive to deploy but also costly to manage. And mobile networks don't always offer full coverage, so CBRS could prove highly adept at meeting needs with a single LTE network.
Sprawling manufacturing sites like those in aerospace, petrochemicals and automotive could also benefit from extended coverage at a lower cost. And these are just a couple of the unique benefits of a CBRS network. Others to expect include:
it's more secure
it increases your resilience
it provides flexibility for you to dedicate and segment your bandwidth for critical business communication.
While CBRS private LTE networks are currently only available in the US, they are under consideration both in the UK and elsewhere in Europe so hopefully, it's only a matter of time before a number of sectors can benefit from the 'innovation band'. But CBRS isn't the only shining star on the next-gen wireless technology horizon*, there's also 5G and W-Fi 6/6E.
Consumers are buying 5G phones in their droves making it the fastest growing mobile technology in history. Undoubtedly, they'll benefit from its additional speed but it will benefit the enterprise space too. So, what can you expect from 5G?
Up to 10 Gbps wired speeds
1000 times more bandwidth than 4G LTE
A 90% reduction in total energy requirements
Low latency; maximum 4 milliseconds
Improved signal quality and strength
The good news is 5G's here but coverage currently is largely only centred around densely populated areas and, like 4G, it's going to take years for the full network roll-out to happen, so you have plenty of time to make your migration plans.
And speaking of migration, many firms are trying to decide if to upgrade their infrastructure network now to Wi-Fi 6 or hold out a bit longer for Wi-Fi 6E. I'd say they need to first take a long, hard look at their current and anticipated application needs, together with whether Wi-Fi 6E is actually even available, or likely to be available, in their geographic location(s). Only when they know this will there be clarity on if, how and when to start down the upgrade path.
What these three next-gen wireless technologies offer you is greater freedom of choice and for some enterprises it may mean layering one, two or even all three of them to meet your needs. Whichever way you look at it we're facing exciting times ahead and we'd be happy to help you review your application strategy and migration needs. Meanwhile it's a big '10-4' from me until next time!
Learn more
Download White Paper
*Source: White paper on 5G, Wi-Fi 6/6E and CBRS from Zebra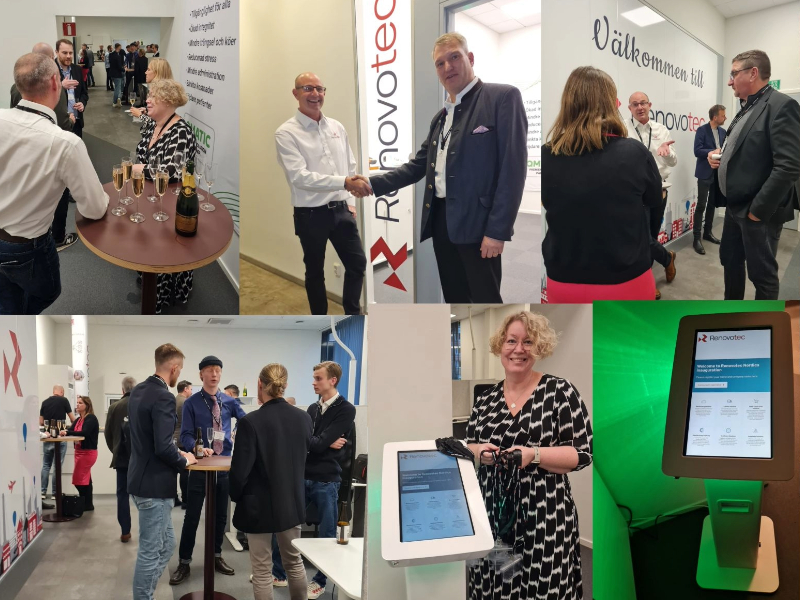 Renovotec Expands Global Footprint with Two New Offices
Fast growing AIDC provider responds to customer demand Warrington, UK – 9am BST, 24th October: Renovotec, the UK's fastest growing provider of end-to-end automatic identification and data collection (AIDC) technology solutions and services for organisations operating throughout the supply chain, today announced the strategically significant opening of two new offices, one serving the Nordic region […]
Read more